Hi everyone,
I have been very busy on several projects and will be updating you in between being on service. It's snowing today!
As you know, we bought a great couch, the
Radley Fabric Sofa
from Macy's which was on sale: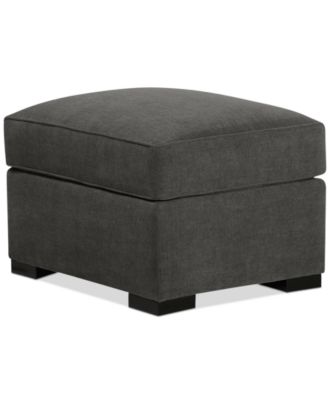 I really wanted the ottoman as well. Unfortunately, it was not on enough of a sale for us.
Lucky for me, someone else had a similar issue. Pinterest, or more specifically,
Infarrantly Creative
and
Turned to Design
to the rescue!





Turned To Design



I did have an old IKEA Lack Table that wasn't being used. It is a little bit worse for wear.
So...I made my own. First, I dragged O to Joann Fabrics. I walked into one on my own a few days before, freaked out over all the options and promptly left. This time we were able to make a fabric selection for the ottoman. I forgot to bring a pillow to compare the colors, but we made an educated guess. I also bought batting, as I didn't want the ottoman to be too tall (because I was trying to avoid cutting down the legs).
So then I painted the legs grey. Same paint as the
console table
. No primer, no sanding, no nothing. It took multiple coats and there are some areas that are peeling off that I will need to repaint and seal soon. I probably should have followed this tutorial by The Refurbished Home on how to paint IKEA furniture. Too much work but might be worth it.
Anyway, then I removed the legs to staple on the batting. I started with two layers, but the boyfriend wanted it to be softer, so I added another two layers. I used the staple gun and made sure not to staple over the leg holes. The corners were a little tricky. I ended up folding them over themselves for the most part.
I then did the same thing with the fabric we chose, again being careful not to staple over the leg holes. It was pretty easy. Pull tight! Then I added the legs. I had to make sure to tuck in the fabric once I got the legs on pretty tight so it wouldn't stick out. Then I had to loosed one leg because it was shorter than the others.
Voila!
And next to the couch...A near perfect match with an interesting design.
After one day, the boyfriend texted me to say the cats were "really enjoying" the new ottoman. Slight adjustment...
And all is well! Actually, the boyfriend is cutting the legs down to make it slightly lower and then I will repaint them and seal them this time. But really, all is well!
Stay tuned. A teaser: we did some Craiglist shopping makeovers to create an entryway in our rowhouse. Until next time!
E